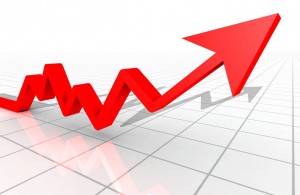 The Commerce Department revised the growth rate of the U.S. economy in the third quarter.
The gross domestic product of the country rose 2.1 percent, higher than the 1.5 percent growth rate originally reported, according to The New York Times.
The increase was due to corrected inventory figures. Businesses were moving new products faster than initially believed.
The economic growth rate is predicted to be 2.5 percent for the whole of 2015, a small increase from the 2.4 percent rate seen last year, the Times reported.
"While this expansion may go uncelebrated, growth in fact has been good enough to achieve a great deal of cumulative progress in the labor market," said Jan Hatzius, chief economist at Goldman Sachs. "We now expect that the U.S. economy will reach full employment within the next 12 months."
The Times reported that there were additional economic gains. The September Standard & Poor's/Case-Shiller Home Price Indices reported a 0.6 percent increase in home prices in the country, the largest monthly gain in four months and double what economists anticipated.
Growth was especially significant in San Francisco and Portland, which saw 11.2 percent and 10.1 percent price gains, respectively.
Consumer spending continued to be healthy in the third quarter as well, according to the Times. Economists predict consumption during the fourth quarter to grow around 3 percent.
"Domestic demand in the U.S. economy remains very solid, something that will surely give comfort to the Fed as it ponders its next move," BMO Capital Markets Senior Economist Robert Kavcic told the BBC.
The Fed will decide whether to raise interest rates when it meets Dec. 15 and 16.