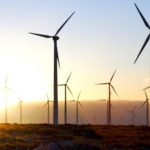 Amazon.com Inc. has announced plans to build a wind farm in Texas.
The agreement to buy power from a 253-megawatt wind farm developed by Lincoln Clean Energy LLC will generate enough energy to power nearly 90,000 homes in the U.S., reported Bloomberg. Purchasing close to 90 percent of the energy from the farm, the new farm is set to have more than 100 turbines.
Amazon is not the only tech company in agreements with renewable energy facilities. Apple Inc. and Facebook Inc. have also purchased alternative energy to power their services.
"Direct purchasing by large, long-term thinking customers like Amazon has quickly become a key driver of the transition to renewable power across the U.S.," Declan Flanagan, chief executive officer of Chicago-based Lincoln Clean Energy, said in the statement.
Renewable energy installations of the online retailer include a solar farm in Virginia and wind farms in Ohio, North Carolina and Indiana, reported Fortune. The newly announced project is part of an initiative to use wind energy to power the servers that host Amazon Web Services, Inc.
According to the company, by the end of 2016, 40 percent of the power for Amazon Web Services will come from alternative energy sources. The long-term commitment is that 100 percent of this subsidiary of Amazon will be generated by clean energy.
The wind farm is expected to be up and running by late 2017.